PRISON BREAK : PHOTOS EXCLUSIVES ENFIN DÉVOILÉES !
DES PHOTOS ET AFFICHES EXCLUSIVES DE LA SÉRIE "PRISON BREAK" SONT ENFIN DÉVOILÉES AU GRAND PUBLIC !!
Comme vous devez le savoir, la série PRISON BREAK reviendra bientôt sur nos écrans pour de nouvelles évasions.
Aujourd'hui, des photos exclusives viennent d'être dévoilées au grand public. Des photos officielles qui concrétisent le retour du jeune homme aux multiples tatouages, pour le plus grand plaisir des fans de la série.
La nouvelle saison devrait être diffusée l'année prochaine, et il faut avouer que beaucoup ont hâte de revoir Michael Scofield. Il faut dire que lors de sa toute première diffusion, PRISON BREAK avait fait un véritable carton. Cette série était le rendez-vous de la semaine à ne surtout pas manquer.
Le 31 août 2006, sera diffusé le tout premier épisode de la série en première heure. Considérée comme étant une série dotée de passages trop oppressifs par le CSA, celui-ci avait élaboré un programme horaire, permettant aux plus jeunes de ne pas tomber sur la série et ainsi, ne pas voir des scènes jugées trop hardcores et irascibles pour eux. D'ailleurs, lors de la diffusion sur M6, la chaîne française avait été contrainte de couper quelques scènes.
Concernant les personnages qui seront présents dans la cinquième saison, nous pourrons retrouver Dominic Purcell, Wentworth Miller, Wade Williams, Sarah Wayne Callies, Robert Knepper et tous les autres. Tout le monde, ou presque, reprend leurs rôles sept ans après l'arrêt de la série en 2009.
APRÈS PRISON BREAK ! :
Cependant, après l'arrêt de la série PRISON BREAK, certains acteurs n'ont pas chômé. Dominic Purcell, âgé de 46 ans, s'est vu incarner le rôle principal dans le film PRIMEVAL, où il doit combattre un crocodile géant mangeur d'hommes. Il aura aussi joué avant d'incarner Lincoln, dans BLADE TRINITY au côté de Wesley Snipes, EQUILIBRIUM au côté de Christian Bale, mais aussi dans PROFANATIONS, film d'épouvante/horreur qui a été extrêmement bien accueilli malgré une sortie discrète directement en vidéo, en 2006.
Wentworth Miller, âgé de 44 ans, quant à lui, fera beaucoup d'apparitions dans de multiples séries et jouera aussi dans UNDERWORLD et RESIDENT EVIL. Celui-ci a d'ailleurs fait ses premiers pas en tant qu'acteur dans la série BUFFY CONTRE LES VAMPIRES, au côté de Sarah Michelle Gellar en 1998, dans la deuxième saison de la série. C'est un peu plus tard qu'il aura un rôle principal dans la série DINOTOPIA, en 2002. Wentworth et Dominic auront plus tard, un rôle dans la série FLASH où les deux comparses devront faire face au héros. Ils seront d'ailleurs dans la série LEGEND OF TOMORROW.
Sarah Wayne, elle, sera aussi, surtout connue pour son rôle dans la série THE WALKING DEAD. Quant à Robert Knepper, celui-ci donnera la réplique dans HITMAN, HUNGER GAMES : LA RÉVOLTE partie 1 et 2 et JACK REACHER : NERVER GO BACK, entre autres.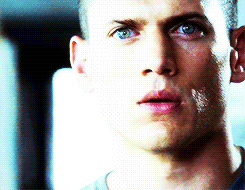 Il faudra donc patienter encore un tout petit peu pour enfin voir le résultat de cette renaissance de la série PRISON BREAK. Vous n'avez jamais vu PRISON BREAK, accourez vite voir les quatre saisons et venez nous dire ce que vous en avez pensé !!
Je vous laisse avec la bande annonce des films PRIMEVAL et PROFANATIONS.
BANDE ANNONCE DE PRIMEVAL :
[youtube url="https://youtu.be/0mdx0cs_qvs" hd="1″]
BANDE ANNONCE DE PROFANATIONS :
[youtube url="https://youtu.be/jBkOeM7mH_w" hd="1″]
Viens nous rejoindre sur TWITTER et n'hésite pas à participer au concours afin de gagner de multiples cadeaux !
À DÉCOUVRIR AUSSI SUR ZONE-ACTU :
ÇÀ : LE CLOWN REVIENT AVEC UNE PHOTO OFFICIELLE !
UN NOUVEAU TOURNANT POUR TEEN WOLF !