The Exorcist : Nouveau trailer et photos officielles publiées !
LA PRODUCTION A DEVOILÉE DE NOUVELLES AFFICHES OFFICIELLES ET UN NOUVEAU TRAILER DE LA SÉRIE THE EXORCIST !
Comme vous le savez, après un énorme et fulgurant succès de la saga L'EXORCISTE ou THE EXORCIST, sorti dans les années 80, une série a été imaginée pour cette fin d'année 2016. En effet, la série fera son entrée remarquée, le 23 septembre prochain sur la chaîne FOX. Ce mois-ci, un nouveau trailer est arrivé.
C'est au COMIC-CON de cette année à San Diego, que la production a donc, dévoilée un nouveau trailer. Cependant, en plus de la bande-annonce de la série très attendue, deux nouvelles photographies / affiches officielles ont été publiées aux yeux du grand public. Ainsi, nous pouvons apercevoir la similarité et le petit clin d'oeil fait aux anciennes productions de la saga.
CLIN D'OEIL A LA SAGA DES ANNÉES 80 ! :
En effet, dans le premier volet de la saga L'EXORCISTE, une scène où la jeune fille étant possédée, tourne sa tête à 360 degrés. Son visage se retrouvait donc au niveau de son dos. Cette scène est devenue l'un des passages du film, le plus cultissime et emblématique de la saga à cette époque. Cela n'est donc pas du tout étonnant qu'ils aient voulu imaginer une affiche de ce genre.
Concernant la bande annonce, celle-ci se voit un peu plus explicite. Ainsi, nous pouvons voir plus de passages de possessions. La série est, bien évidemment, très attendue. Cela dit, il y a de nombreuses interrogations concernant la chaîne où sera diffusée la série. Effectivement, nombreux sont ceux qui trouvent que la diffusion de L'EXORCISTE sur la chaîne FOX, n'est pas judicieuse.
La série étant basée sur de la possession et étant catégorisée comme série épouvante/horreur, il aurait été préférable pour certains, que la série soit diffusée sur la cable. Toutefois, aucun changement n'est prévu à ce sujet. Cependant, il est sûr que la série aura une signalétique de jeunesse, ainsi qu'une possibilité de message d'avertissement.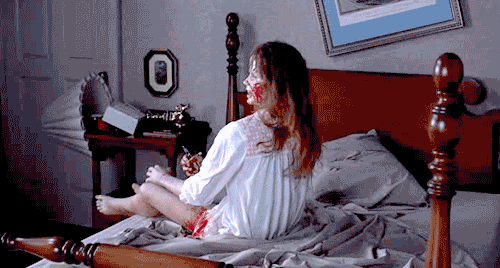 En attendant la diffusion de la série, je vous laisse avec la bande annonce de celle-ci.
LA BANDE ANNONCE DE LA SÉRIE THE EXORCIST ! :
[youtube url="https://youtu.be/aCwklozIszg" hd="1″]
Venez nous rejoindre sur FACEBOOK, n'hésitez pas à participer au concours afin de gagner de multiples cadeaux !
DU NOUVEAU SUR ZONE-ACTU ! :