The division – Leak d'une sortie importante !
Une date pour la sortie de la première expansion de The Division.
Ce leak se retrouve sur la page du DLC qu'Amazon a mit en ligne. Même si actuellement, cela a été retiré, nous savons très bien que lorsqu'une information est partagée sur Internet, elle le reste. En effet, le célèbre joueur The Division, Arekkz, a pris une capture d'écran tout juste avant la disparation de l'article sur le site d'achat.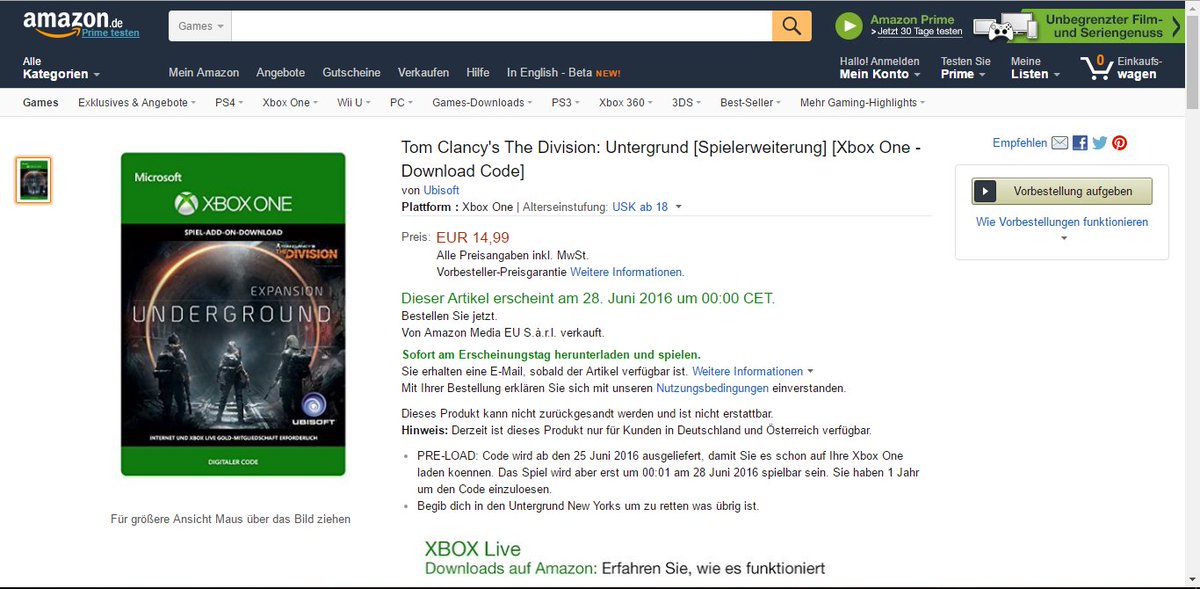 On apprend ainsi, grâce à ce leak, que cette nouvelle expansion débutera le 28 juin 2016 pour les propriétaires de la XBOX ONE. Les autres plateformes auront l'occasion de jouer à cette nouvelle partie du jeu 1 mois plus tard. La raison principale est que Microsoft, fabricant de la XBOX ONE, a un contrat d'exclusivité avec Ubisoft.
Cette nouvelle extension, appelé "Sous-terre", prendra place dans les tunnels de New York. Les joueurs exploreront alors une nouvelle partie jamais découverte du jeu. Cette extension coûtera 15€. Pour les amateurs du jeu, nous vous conseillons donc d'acheter directement le "Season Pass". Vous aurez ainsi accès aux nouvelles extensions à venir. Pour plus d'informations, cliquez ici.